Biography's
Jack Mallock
To enlarge click on photo repeat to shrink
Photo from website
Jacks official website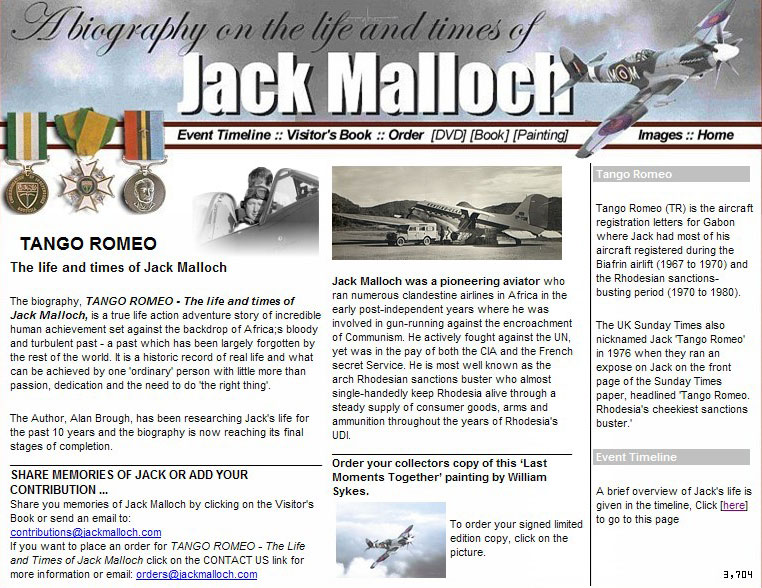 1920 to 1943
Jack is born in Durban SA – Oct 1920
The Malloch family move to Umtali in Rhodesia – 1925
Jack attends boarding school in Somerset West – 1933
Jack is withdrawn from school and starts working in a garage as a mechanic – 1935
Jack gets his drivers license and starts working for the Railways as a driver – 1936
World War Two is declared – Sept 1939
Jack is accepted into the Royal Air Force - 1943
Jack receives his Wings and is sent to War – Dec 1943

1945 to 1962
Jack is shot down and wounded behind enemy lines. He is hidden from the Germans by the Partizans – Feb 1945
Jack returns to the squadron after being flown out of his mountain hiding place and having recovered in hospital – April 45
Jack marries Zoe Coventry in Salisbury – January 1948
The first 'Spitfire Ferry' from the UK to Southern Rhodesia. Jack is one of the pioneering pilots – March 1951
Jack and Jamie Marshall establish 'Fish Air' - March 1952
Jack and Jamie sell Fish Air to Hunting Clan. Jack is retained as a pilot by Hunting Clan - Oct 1955
Jack establishes Rhodesian Air Services (RAS) and starts working for Tsombe in Katanga – 1960
The UN shoots down one of Jack's RAS DC-3's in Katanga - July 1962

1963 to 1967
Katanga is defeated by the UN and surrenders, becoming a province of the Congo – January 1963
Jack's RAS is involved in gun-running in the Yemen – 1963/64
Tshombe returns from exile and is invited back to the Congo as Prime Minister – June 1964
Jack starts working for Tsombe again and flies in support of Mike Hoare against the Congo rebels – Aug to Nov 1964
Rhodesia declares UDI from Britain – Nov 1965
Jack established Air Trans Africa (ATA) - January 1965
Jack's ATA first becomes involved in Rhodesian sanctions-busting – 1966/67
Biafra declares independence from Nigeria and the Nigeria Civil War begins – May 1967

1967 to 1973
The 'Mercenaries Revolt is launched in the Congo with the news that Tshombe has been kidnapped. Jack flies re-supply missions for Schramme's
column of mercenaries – July to November 1967
Jack makes his first gun-running flight into Biafra – July 1967
Jack and his DC-7 crew are jailed when landing in Togo with a cargo of 9 tons of Nigerian banknotes – January to June 1968
Jack and ATA make nightly weapons flights into Biafra – July 1967 to January 1970
Biafra is finally defeated – January 1970.
Jack establishes Afro-Continental Airways – January 1970.
Jack's ATA, with a fleet of Gabonese registered aircraft, becomes heavily involved in Rhodesian sanctions-busting – 1970 to 1980
The UK's Sunday Times runs a front page expose on 'Tango Romeo' – August 1973

1976 to 1978
Britain makes their third complaint to the UN about Jack Malloch and his sanctions-busting airline - May 1976
Jack is called up as a reservist to the Rhodesian Air Force. Jack and his DC-7 aircraft become very involved in Rhodesian military operations and long
range parachute drops – January 1977
Jack's DC-7 flies Bob Denard into Cotonou where he launches a coup attempt. It fails – January 1977
Jack pilots the Rhodesians largest SAS HALO para-drop over Mocambique – October 1977.
Jack is involved in the very successful 'Operation Dingo' with the Rhodesian Army and Air Force – November 1977
Jack starts to renovate the old Rhodesian Air Force Spitfire Mk 22 that has been on a plinth as a gate-guard for over 20 years - 1978
Jack's CL-44 is intercepted by two MiGs over Angola and has to escape through the mountains – May 1978
Jack brings back a 30kg coelacanth from the Comores – July 1978

1979 to 1982
Jack is very involved in the SAS bridge-blowing 'Operation Cheese' in north-eastern Zambia – September 1979
Jack makes the first flight in the renovated Spitfire Mk 22 – March 1980
Jack's CL-44 is destroyed by fire at Salisbury airport – February 1982.
Jack is killed while flying the Spitfire Mk 22 on the last day of filming the documentary 'Pursuit of a Dream' – March 1982.
Rather than write a Biography here it might be better to read his book
'TANGO ROMEO'
The Most Illustrious Freebooter of them all
This is a review of the book from Korvinag posted on the New Rhodesian Forum
This book is due for publication in the United States, Britain and South Africa in 2009. It will deal with the life and times of one of the most unusual characters to emerge in Africa after World War 2.

It is a classic series of tales about one man's determination to help those whom he believed needed assistance during a period when many of Africa's conflicts were fuelled and abetted by Cold War politics. Africa was not only the battleground of Moscow and Washington, it was also a remarkable cauldron of intrigue, violence and power play that often overflowed national borders.

Jack Malloch was closely involved with Rhodesia's Special Air Service regiment, including having direct involvement in some of that unit's long-range cross border operations.

The CIA also enters the picture, from their initial involvement with Jack in Katanga, through the civil wars in the Congo right to getting US Senate approval to sell him DC-8's in the early/mid 1970's with jet conversion training for his crews in America - which was sponsored by the wife of Claire Chennault, the founder of the CIA's Air America!

Malloch was also involved with the British Military at about the time of Ian Smith's Unilateral Declaration of Independence (UDI) and was subsequently involved in some military support flights into the Sudan for Whitehall. There were also clandestine military flights into the Aden desert in the early 1960's delivering weapons for the British SAS in their fight against the Communists. While in the mid-1970's it seems that the British bases in Sharjah were facilitating the sale of second hand equipment and parts for Rhodesia's British built Hunter strike aircraft, subsequently used against the guerrillas who were invading Rhodesia from Mozambique and Zambia.

But most of the 'secret' work that Jack did was with the French Secret Service. The Elysees Palace was linked to a series of events in Katanga and in the Congo (once Tshombe took over) and the French appear to have financed much of Jack's support for the break-away Nigerian enclave of Biafra.

As a result one of Malloch's good friends over the years was the French mercenary Bob Denard. In fact it was Malloch that airlifted Denard and his group of fighters into both Dahomey (Benin today) and the Comoros archipelago the second time he invaded and took the country by force.

Into that mix arrives Jean-Louis Demage, who was in Jack's employ, and who was Bob Denard's second-in-command in the Congo - and apparently Africa's first hijacker. Soon after one of Jack's aircraft was shot down by the U.N. forces invading Katanga, Jean-Louis commandeered a DC-3 on the runway at Katanga's Elizabethville (Lubumbashi today) and forced the pilot to fly a group of wounded mercenaries who had been captured by the U.N. to safety in Kariba along Rhodesia's northern border.

For much of the 1970's Jean-Louis ran the Libreville office of Affretair, Malloch's aviation company which was used to very successfully break the UN's embargo against Rhodesia as well as ferrying cargo, arms and equipment into numerous other African countries.

Jack's flying career started with flying Spitfires in the Italian campaign during WWII, where he was shot down behind enemy lines. In the early 1950's he then flew a Spitfire Mk XXII all the way from the UK to Rhodesia for the embryonic Southern Rhodesian Air Force, and it was in that same Spitfire, after the Rhodesian bush war, that his flying career (and his life) came to an abrupt end in 1982.

He was a very secretive, remarkable and patriotic man who had a major influence on the military history of not only Rhodesia, but of many African countries throughout the 1960's and 1970's. He also had a rare 'flying intuition', which is summed up in the words of one of his WWII comrades: "In terms of ethics, character and flying ability I would compare him to Chuck Yeager".

This biography of Jack Malloch is indeed a true-life aviation 'epic'.

Korvinag Copyright 2009

Source