THE
WILD OATS
FORMERLY THE REBELS
This is not the official Wild Oats web site. Its just my way of paying tribute to a great bunch of local musicians, with a special mention for Rod Goldsmith a fellow bass player. My very first band the Forbidden Fruit took full advantage of the vacuum that was left, when the Wild Oats disbanded in 1967. In fact we even bought their stage gear to get us on the road and to try and fill their shoes.
| | | | | |
| --- | --- | --- | --- | --- |
| Walking The Dog | | | I'm With You | |
| Sweets For My Sweets | | | Posion Ivy | |
| I'll Never Get Over You | | | Put The Blame On Me | |
| Hungry For Love | | | Shake Sheery | |
The roots of the Wild Oats can be traced back to February 1960 when school friends Trev Rowland and Willy Brown, suitably inspired by the exploits of Lonnie Donegan, formed a skiffle group in their hometown of Leiston in a remote corner of rural Suffolk. A parallel enterprise as an Everly Brothers-style vocal duo also began around this time, but by the end of the year guitarist Rowland and vocalist brown had recruited Stykx Scarlett (drums), Rod Goldsmith (bass) and Carl Harrison (vocals) to form the Rebels. With the acquisition in early 1961 of guitarist Robin Hare (who joined from the Nightjars, another local act) and saxophonist Ron Philpot, the Rebels took to the stage as a fully fledged rock'n'roll outfit playing cover versions of recent hits. With few other local bands around, the Rebels had the scene pretty much to themselves. Appearing at clubs and village halls in the Leiston area, they slowly began to build a sizeable local following, often playing to crowds in excess of 300.

In early 1963 an association with David Rattle-a local fan of the group who was apparently well connected in the entertainment industry-led to the Rebels changing their name to the Wild Oats despite the misgivings of certain members of the band, who felt that this new name portrayed them as country yokels. Shortly afterwards Rattle introduced them to David Nicolson, who had recently advertised for bands in the New Musical Express. Nicolson, who worked in EMI's press office, was described in Johnny Rogan's 1988 book" Starmakers and Svengalis' as a typical sixties whizz kid dabbling on the fringes of the music business who harboured dreams of establishing himself as 'a manager/producer in the Andrew Loog Oldham/Larry page mould'. It was Nicolson who financed the Wild Oats' first trip to a recording studio in mid-1963 when versions of Marvin Rainwater's 'Whole Lotta Woman' and an obscure Elvis Presley song 'Put The Blame On Me' were cut at the R G Jones studio in Morden.

David Wells January 1995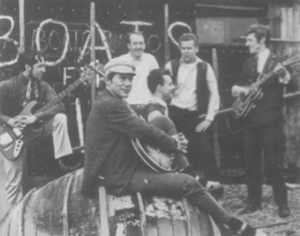 By this stage the British beat boom was in full swing, and the Wild Oats' switch from rock'n'roll material to a more R&B-derived sound was a logical progression. This transition was accelerated by the influence of their new manager Chas Philpot (brother of Ron, who by now had left the band), who introduced his charges to the delights of obscure black American R&B and soul music. With a suitable revised repertoire, the wild Oats found themselves in greater demand than ever. They began to perform regularly at local air bases as well as clubs in Norwich, Ipswich and Colchester areas. The band also became a popular attraction at hunt balls and debutants parties (leading to a mention in the society magazine Tatlers) as well as playing at various London clubs. They also performed at the world-famous London Savoy Hotel, where they were nearly refused entry due to their 'unsuitable' appearance, but declined an invitation to appear at the Star Club Hamburg, deciding that the notorious Reeperbahn district was no place for a bunch of clean living Leiston lads to be hanging out.

By late 1963 the Wild Oats were acting as backing band for the stage appearances of another of David Nicholson's progenies, Crispian St Peters as well as returning to R G Jones to record a limited edition EP on the Oak label. 'You Can't Judge A Book By Its Cover', walking The Dog', 'Will You Still Love Me Tomorrow?' and another attempt at 'Put The Blame On Me' were issued in an attractive picture sleeve, but the release failed to attract the attentions of a larger record company. Today a pristine copy of the EP, complete with original sleeve, is valued by Record Collector magazines at a cool £500.

David Wells January 1995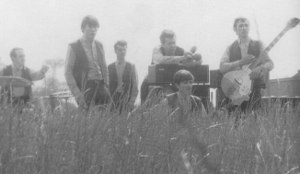 1964 proved to be an eventful year for the band. They entered the All-England Big Beat Competition (an event sponsored by electrical giants Grundig) and were adjudged joint winners after appearing at the Marconi Club in Chelmsford, Essex. Their prize was a recording session at Radio Luxembourg, and the two tracks that were laid down under the aegis of presenter Philip Waddilove were subsequently broadcast by the station. Around this junction the Wild Oats discarded the Fender Stratocasters in favour of Gibson's semi-acoustics in order to approximate the Chicago Blues sound, and further recordings were made at the City of London Studios in an attempt to showcase the bands new musical emphasis. Versions of the Mary Wells hit 'Bye Bye Baby' and Sugar Pie De Santo's 'Soulful Dress' (a song that had been recommended to them by the future Moody Blues manager Denny Cordell) were recorded, but the band were dissatisfied with the results. Notwithstanding this disappointment, a regular support slot at Gorleston Floral Hall enabled the Wild Oats to appear on the same bill as many of the biggest names to the era including the Kinks (who apparently were given a decidedly mixed reception), the Hollies the Animals and Georgie Fame. Now playing to increasingly large audiences, the Wild Oats paid greater attention than before to sartorial matters, and their wardrobe included leather waistcoats, shirts and trousers from John Stephen in Carnaby Street, Cuban heeled boots from Anello and Davide in Charing Cross Road and brown mohair suits from Cecil Gee in Shaftesbury Avenue.

Despite such fastidious grooming, the Wild Oats' main aim was to enjoy themselves, and their youthful exuberance was evident both onstage and off. After one London gig an inebriated Robin Hare walked through Soho in the early hours of the morning with a dustbin lid stuck to either foot. He was spotted by two policemen who immediately gave chase. The guitarist managed to shake one foot loose, but couldn't remove the dustbin lid from his other foot — nevertheless, he still managed to outrun his pursuers! The band's appearances at deb balls were also memorable experiences. They would play for anything up to four hours at a time, taking liquid refreshment (usually champagne) whilst on stage. Inevitably their performance was rather more rugged and raucous by the end of the show than the beginning! Their willingness to play long hours was also rewarded financially, and at one venue they were paid more than the Hollies (at the time topping the chart with 'I'm Alive') had received the previous week for a briefer appearance.

David Wells January 1995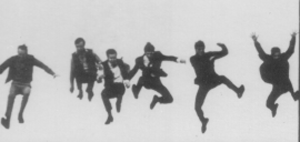 A further acetate coupling 'Route 66' and 'Fanny Mae' was made at Tony Pike's studio in early 1965, but the band were unhappy both with the sound quality and their own performance. Shortly afterwards Graham Baldry replaced Rodney Goldsmith, who left due to musical differences. Robin Hare moved from guitar to Farfisa organ as the Wild Oats became increasingly influenced by soul music, covering material initially recorded by Lee Dorsey, Otis Reading and Wilson picket. By this stage, however, the more successful British acts were moving away from the R&B/soul axis and into more experimental areas. By the time the Wild Oats officially folded in late 1967 (Mick Hughes had replaced the disillusioned Trev Rowland in November 1966), the band had become something of a musical anachronism. Their failure to progress from cover versions to self-penned material had condemned them to a finite shelf life, and they were inevitably over taken by events as the musical and cultural epicentre shifted inexorably from Liverpool to San Francisco. Occasional reunions -- the last as recent as December 1994 -- have all been greeted by packed houses, confirming that their reputation on a local level remains fully intact thirty years after their heyday.

The posthumous appearance of 'Live At Lesion' is undoubtedly an unexpected but welcome appendage to the wild Oats story, but the albums appeal surely extends beyond such parochial realms. 'Live At Leiston' constitutes a fascinating and important historical document, not because the Wild Oats were a uniquely individual talent but for precisely the opposite reason. All live albums issued during the beat/R&B era showcased the undisputed market leaders such as the Stones, the Yardbirds and the Kinks. The Wild Oats, however, can be considered as Everyman (or rather Everyband): had the proverbial Martian alighted from a passing spacecraft on a Saturday night in 1964 and wandered into any village hall or local hop the length and breadth of Britain, the chances are that he would have witnessed an almost identical set from any one of the multitude of local heroes taking their musical cue from their more illustrious peers. Extraterrestrials aside, the exhumation of 'Live At Lesion' finally gives rock historians and collectors alike the chance to hear the authentic sound of the suburbs as it stood in May 1964, when provincial bands ruled British pop and British pop ruled the world.

David Wells January 1995
Photo's by Gus Wiley and brief Wild Oats band history by David Wells
Taken from the "Live At Leiston" Album sleeve
THE ALBUM THAT STARTED THE PRESENT WILD OATS REVIVAL
A Special Limited Edition of only 500 copys
This one is number489
Brian Styx Scarlett. Rodney Goldsmith. Trevor Roland. Carl Harrison. Willie Brown.
and Robin Hare on the ground.
The Wild Oats LP Album "Live At Leiston"
Special Thanks to Trev Rowland and David Wells for help in this project
Photograths by Gus Wiley
Sleeve design by David Anton of the Art Work Studio
Thanks to Tenth Planet Records for the album release
THE REBELS
Photo send in by Linda (Meadows) Edwards
Back Row Rodney Goldsmith. Robin Hare. Brian (Styx) Scarlett. Trevor Roland
Front Row Brian (Willie) Brown. Ron Philpot Carl Harrison
The Wild Oats EP
A collectors item, in mint condition its worth £800
Photo sent in by Linda (Meadows) Edwards
It's probably fair to say that, when the definitive guide to rock history is written, the small Suffolk town of Leiston is unlikely to merit a mention; the town's only real claim to fame is its disturbingly close proximity to Sizewell B nuclear power station. However, whilst the Suffolk Sound never threatened to rival Merseybeat as a musical phenomenon, Leiston did briefly boast a class R & R act of its own in the mid-1960s. Given average luck and a following wind, the wild Oats may well have developed along the same lines as more celebrated bands of the era such as the Hollies and the Searchers, but despite a hugely popular live set, that all-important recording contract failed to materialise, and the band seemed destined to remain a well-kept local secret when they went their separate ways in 1967. So it proved for almost a quarter of a century. By the early 1990's, however, the Wild Oats had been afforded cult status by collectors due to the belated discovery of a handful of tracks that they had recorded on the fiercely collected Oak custom label, a division of the R G Jones recording studio of Morden in Surry, where acts of the calibre of the Stones, and the Kinks and the Yardbirds had all cut their first demonstration discs. The success in 1994 of Tenth Planet's anthology of Oak artefacts, including the Wild Oats' version of the R & B classic 'You Can't Judge A Book By Its Cover', led the band to unearth tapes of a vintage Wild Oats performance in May 1964, when they were captured at the International Club in Leiston by a domestic reel to reel tape recorder that had been set up by two of their more fervent supporters. The result is 'Live At Leiston'. Not only an accurate representation of what the Wild Oats were doing in May 1964 but a fascinating snapshot of contemporaneous British pop music in a month when the singles chart was topped by the Searches, the Four pennies and Cilla Black (whatever happened to her?).

David Wells January 1995