A Brief History of Hang Gliding in Suffolk UK
Sorry that the early part of the Suffolk history is all David Cook and Terry Aspinall. That's why I need your help. Can you PLEASE help me fill in the gaps. There were many other people flying during those early day and I would like to add their details to this page. People like Brian Griffths, Jim Dowe and Graham Drinkall, to name but a few. Especially Brian as I believe he was the very first to fly a weight shift Hang Glider in Suffolk?


1972

David Cook read an article in a Pilot magazine about a foot launched Swing-wing, rigid hang glider with aerodynamic controls and a glide ratio of 9 to1. Known as a VJ23, it was built and designed by Volmer Jensen, a well respected aviation icon from.the USA.

David Cook checked out the Birdman Rally, held at Selsey Bill in Sussex. An annual event which offered £3000 to the first person who succeeds in flying the distance of 50 yards after leaping off the local pier.

1973

David Cook build a VJ23 at a cost of £128 and learnt to fly it along the 20 m cliffs at Thorpeness, and in doing so become the very first person to fly a hang glider from that site and in Suffolk. He named his creation "AINITA TYB" (All I need Is The Air That I Breath) and had it inscribed along each side of the boom.

David Cook, Chris Tansley and Neil Moran all tried to pioneer a new grassy slope at Iken just South of Snape. David was the only person who flew this site successfully in his VJ23.

VJ23

December. Terry Aspinall watched 'Magpie' a children's television program featuring Ken Messenger from Birdman Sports showing the presenters of the show how to fly a hang glider. In order to find out more Terry wrote to the program asking for more details, and was highly delighted when the program responded and wrote back giving Ken's address in Marlbough Wiltshire. Around that same time Ken and Dave Raymond had undertaken the stunt flying for the film 'Tommy' staring Roger Daltrey and produced by Ken Russell. Incidentally many years later Roger Daltrey owned and flew one of David Cooks Shadows.

1974

David Cook became the first person to fly his VJ23 hang glider from the Minsmere cliffs in Suffolk. He was also and still is the only person granted permission to fly from the site, it being a bird sanctuary.

David Cook flying his VJ23 along with Neil Moran flying his Icarus V pioneered a site just south of the Orwell Bridge. This is where David discovered 'ground-effect' he used in the Selsey Birdman efforts. The ground-effect flights were 40-50 yards longer than if a straight launch was used.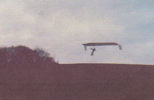 Icarus V

July. David Cook entered his first 'Selsey Birdman Competition' along with helpers Chris Reilley and Neil Moran and 18 close friends to spur him on. David has since reported that the buoys marking the finish line looked more like 75 yards rather than the stipulated 50 yards, because the lateral flow of the tide had swept them further from their anchors. David won the competition, but returned home with only £30 in his packet that was presented to him by Patrick Moore and a pretty young lady although he did not know who she was. It was also estimated that there were over 20,000 spectators attending the event that year.

September. Terry Aspinall picked up his Albatross 180 hang glider from Ken Messenger at one of the very first British hang gliding competitions being held at Mere in Wiltshire. Costing £250 plus 25% luxury tax. He also watched as the Wills Brothers who were over from the USA and flying their famous Swallowtails, walk away with most of the prizes.

October. Terry Aspinall attempted his first a flight from Sizewell beach, which ended in disaster and a £50 damage bill.

October. Terry Aspinall met up with David Cook, and David agreed to help him learn to fly, along with Neil Moran who was learning to fly an Icarus 1V (a rigid wing) and Chris Tansley who at that time was trying to learn to fly a McBroom home built weight shift glider, he had purchased from Brian Griffiths (Ipswich). David would always describe Tansleys sail as being one of Brian's old table cloths. They all spent many many weekends trying to fly by notching up hundreds of top to bottoms at Thorpeness. Many of which took place through the winter in extreme cold and sometimes gale force winds, all in the vain hoping that the wind would eventually be of the right strength and direction to soar.

1975

Brian Griffiths discovered Raydon and gained permission from the land owner to fly the site. Later David Cook, Chris Tansley, Neil Moran and Terry Aspinall all join him. David Cook broke his arm while trying to fly a weight shift hang glider, having only flown aerodynamic control aircraft up to then. Later Graham Drinkall also spent time with Brian Griffith's flying this site.

Brian Griffiths discovered what he believed to be a good learners site on the back roads from Woodbrige to Felixstowe. Along with Terry Aspinall they paid a visit to see if it could be pioneered. The slope was just what they were looking for, but access to the site was almost impossible, as they had to negotiate a large bog fully overgrown with reeds. An impossible task especially while trying to carry all of the equipment required to fly. The site also lacked a suitable landing area, as it was completely covered with gorse bushes.


July. David Cook attended the 'Selsey Birdman Competition' Along with Chris Tansley, Robert Jelliff and Bob Kent. Upon arrival they were confronted with a few rule changes from the previous year. The old imperial measurement had been changed into meters. This meant that David would have to now fly 66 meters. In order that David's take off could be achieved without his VJ23's tail hitting the edge of the pier, his helpers threw them self into the launch which meant a couple of them also went over the side of the pier and into the sea. A brave effort by Chris Tansley when you consider that he could not swim, and had to be rescued by Robert Jelliff and Bob Kent, 100 yards from the shore. David was later to say 'His action was one of pure self-sacrifice and could truly be described as the meaning of having a mate'. Later when the boys were discussing the day's events, David's helpers told him that when they surfaced from their plunge into the sea, they could still see David in the air, gliding and using ground effect along the top of the water. To the accompaniment of stupendous roars of encouragement from the people lining the beach. Once again David won the event after reaching the 66 meter buoy. Unfortunately, the organisers argued that the spirit of the competition had been flaunted and the flight was not "by the sole means of the pilot". Most who witnessed the event would tell you that they did not want to pay up, some even believing they never had the money in the bank in the first place.

Terry Aspinall and Chris Tansley, somehow manage to tame the Thorpeness cliffs and move onto Dunwich accompanied by David Cook. Terry was determined to be the first as a little rivalry had developed between them. Once arriving at Dunwich both raced to be the first weight shift hang glider to take off from the cliff. Terry was first but only by a margin of a few seconds. They spent the rest of the day repeating the feat many many times.

Albartross

1976

Early in 1976, David Cook, Terry Aspinall, Chris Tansley and Neil Moran all traveled to Dunstable, to experience a flight from the top of a big hill. As was usual in those days, the safety officer from the local hang gliding club had to check over their gliders, to pronounce them safe to fly from their site. You wouldn't believe what some people were flying in those days. Terry's kite was given the okay with no problems, but when it came to Chris's home built McBroom, that he had bought from Brian Griffiths. There were a few problems mainly with the sail, and David didn't help matters by constantly telling the safety officer that it was dirty as we had not washed it after last nights meal. A reference that he always believed it to be one of Brian Griffiths table cloths. After having a look around it and genially feeling the sail material, he pronounced that he believed it had a couple of hours left in its flying life.

McBroom (McBrick)

1st November. Terry Aspinall obtained his Elementary Hang Gliding Licence while flying at Dunstable, being signed off by Simon Wotton from the Dunstable club. This was the very first licence system that the BHGA introduced.

1977

June. John Wells spent three months building a rigid wing hang glider known as a 'Fledge'.

David Cook decided to add a McCulloch 101 go cart engine (weighing only 12lb) on top of the wing of his VJ23 rigid wing hang glider, and carved his own propeller, that took him over 20 hours and produced only 45 lbs of thrust, later that year its believed that he became the first person to fly a powered rigid wing hang glider in the UK

16th September. Terry Aspinall obtained one of the first issued FIA Sporting Licence's, what was then the requirement to fly in a hang gliding competition. Licence No 008 and signed by Keith Cockcroft

24th September. Terry Aspinall became the first weight shift pilot to take off and soar the Dunwich cliffs, flying a Birdman Moonraker 77 glider. While John Wells was a close second, flying his Fledge. However, it has to be added that David Cook had been soaring the Dunwich cliffs for a couple of year, having taken off from the lower Minsmere bird sanctuary cliffs south of Dunwich. David had special permission to fly from this site and at no time did other members use that site in case David's permission was withdrawn, which is why it was crucial to pioneer the Dunwich site.

Fledge

28th September. Terry Aspinall obtained his Pilots Wings and was registered with the BHGA as fully passed out hang glider pilot. Pilot number 436 and signed by Anne Welch the then secretary of the BHGA.

8th October. Terry Aspinall became the first person to soar a hang glider at Bawdsey Cliffs by the RAF Station, flying a Moonraker 77.

4th December. Terry Aspinall attempts to be the first to fly Sizwell cliffs, but only gets halfway along the cliffs (dunes)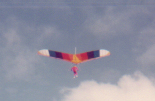 Birdman Moonraker 77

1978

9th May. David Cook (at 37) became the first person to fly across the English Channel in a powered hang glider. Using a 9hp McCullock 101 go-cart engine. With an all up weight of only 150lb. It was a great achievement, as he had only used a quarter of the power which took Louis Bleriot (also at 37) on his record breaking Channel flight in 1909. David flew from Dover in Kent UK, and land in France at Bleriot-Plage just south of Calais. The record breaking flight had lasted one hour and fifteen minutes, during which he had reached a height of approximately 250ft above the waves. Upon landing there was only three minutes of fuel remaining in the two tanks he had on board, sufficient only to fill an egg cup. David's helpers were Catherine his wife, Chris Tansley the none swimmer, Harry Potter, Les Wallen, Martin Lanham, Brian Pattenden, and John Wells. David was later awarded the Royal Aero Club Bronze Medal for aviation achievement, at the Royal Aero Club in London. Being presented by His Royal Highness Prince Charles. His success in this venture led to sponsorship from Duckhams Oil and there followed a period of many demonstration flights at most of the major air shows. The next day Ipswich won the FA Cup. David drove home to a double calibration. At the time David was working for Richard Garretts of Leiston, and one of his bosses Sheikh Mohamed Y Al Bedrawi was so excited at what he had achieved, that he gave David £1000.

9th May. Terry Aspinall while flying at Mundesley in Norfolk had a near miss with one of Bristow's Helicopters returning from an oil rig. The incident was reported and Terry was found guilty by the C.A.A. but with no further action being taken against him, for violating the approach path to the helicopters landing zone. It turned out to be a blessing in disguise for the Norfolk Club as they were given official authority to fly the site. While Notams were published at the nearby Coltishall RAF station, that when the wind was in a north to north east direction there was a possibility that hang gliders would be flying the northern coast line.

25th May. Terry Aspinall crashed in to the Cromer golf course while flying a Moonraker 77 narrowly missing golfers who were out on the course at the time. He was lucky to walk away after being caught in the rotor above the take off area, only sustaining a couple of broken ribs.

20th September. The Suffolk Coastal Floaters Hang Glider club visited Cork in Southern Ireland, to fly against the locals. A good time was had by all. The event was sponcers by Murphy's Brewery. I grand party was organised and held in the brewery board room. They had allocated 15 pints per person at the party. Some of the Suffolk members awoke the next morning still laying under the board room table. Needless to say they were not very impressive when it came to the flying during the following day at Castle Freke. Terry Aspinall crashed John Sharps Moonraker 77 while flying a 15 foot sand dune trying to show the locals how its done, the flying of 15 foot sand dunes, not the crash.

1979

David Cook and colleague Neil Moran set to work trying to design a man-powered aircraft to win the covered Krammer prize of £50,000. David boss at Richard Garrett allowed him to use one of their very large empty warehouses. It became known as the "Mus-Fly" project and after a design was drawn up, work commenced in the evenings and at weekends. Over a long period of time David spent many hours working by himself, with just a few of his old friends dropping in occasionally to help him out, like Chris Tansley and Terry Aspinall. At that time there were several other people around the world all working on being the first to cross the English Channel by manpower. However, although David's idea revolved around a tandem bicycle, it's propulsion system was different. Instead of the peddles going around David's went up and down like a pump. So not only where they building the aircraft they were also in constant training mood, so when the big day came they would already be fit for the 22 mile push bike ride across the channel. I believe that it was David and Chris the none swimmer, who were going the be the athletic power hub of the attempt. Sadly the were beaten by the Americans with Paul McCready at the wheel of the Gossamer Albatross. However, it is widely accepted that his work on this project, was a valuable experience for what lay ahead of him in the aviation industry.

18th March. Terry Aspinall was soaring Corton in a Moonraker78, but who was first?????? Possibly Paul Whitley?????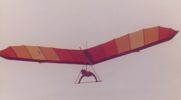 Birdman moonraker78

4th April. Saw a small group of flyers from the Norfolk Hang Gliding club brake away to try and form a Suffolk club, they later became known as the 'Infamous Five' (Terry Aspinall, Alan Snowling, Mel Mayes, John Sharp and David Taylor). However, they had gauged the mood right, as nine other fellow pilots turned up for a meeting organised by Mel Mayes and held at 'The Admiral's Head' hotel in Great Bealing where he lived at the time. The main item on the agenda was the forming a Suffolk Hang Gliding Club. Some of those attending were. David Cook, Terry Aspinall, Mel Mayes, John Sharp, David Taylor, Chris Tansley, Neil Moran, John Wells, Brian Pattenden, (who can fill in the other 5 names) One of the main reasons for the break away, was the distance Suffolk and Essex flyers had to travel to a club meet usually held in Norfolk. That was usually poorly attended by Norfolk flyers, even though the meetings were close for them.


18th April. Terry Aspinall informed the national body, the British Hang Gliding Association (BHGA) of the formation of a Suffolk club. The Suffolk club was temporary added to the BHGA club list and a request made by the BHGA to seek 'member club' status after consultations and discussions with all the other hang gliding clubs was taking place.

2nd May. A meeting was held at the 'Dukes Head Hotel, Stowmarket' 13 members attended the meeting. Membership at that time stood at 20.

1st June. At a club meeting Terry Aspinall came up with the name 'Coastal Floaters' and gave the following explanation. 'At the time I was flying Birdman Hang gliders and they came out with the Moonraker series (1977). Brian Griffith's and myself visited their factory in Marlbough, and in one of their promotional leaflets they set about describing its flying characteristics and about how good it was to fly at inland sites. It went on to add that it was definitely not a 'Coastal Floater'. That name stuck in the back of my mind. A few years later I talked it over with Alan 'Snowy' Snowling and he liked it, but it took us a hell of a lot of hard work to convince other member at a club meeting, to adopt the name. In the early days there was a little bit of a stigma about flying on the coast, while most of the serious flying was being under taken at inland sites. Catherine Cook designed a Suffolk Coastal Floaters logo and still has the originals. While David bought the iron-on stickers for Tee-shirts, and still as a few for sale!!!
| | | |
| --- | --- | --- |
| | | |
25th July. The first club flying meet was held at the Thorpeness cliffs. A great display by David Cook on his powered VJ23. The one used on the first powered hang glider flight across the Channel. Later, in 'The Dolphin Inn', there was a discussion on the Dartmore Bill, with a view to lobbying MP's. Also discussion about tow systems from L Gabrriels and Baker Bros.

23rd September. The BHGA officially recognised 'Suffolk Coastal Floaters Hang Gliding Club'.

26th September. A few days after recognition of the club a meeting was held at 'The Fleece' Hotel in Bungay in conjunction with the Norfolk club. Nearly 60 people attended for a discussion on towing and a film show. It was at this meeting that Suffolk Club member Brian Pattenden was the first person to put forward the idea of towing the man and not the glider. He experienced a lot of flack over his idea, and at times it was a little embarrassing at the way he was ridiculed by many who had attended the meeting. Strange how a decade later this method, was to become the main activity of the Suffolk club.

6th October. Terry Aspinall & Alan Snowling were Soaring Felixstowe, Terry in a Cherokee and Snowy in a ?? But who was first at this site ??????

6th October. Terry Aspinall & Alan (Snowy) Snowling were soaring Walton on the Naze. Terry in a Cherokee and Snowy in a ?? But who was first at this site ?????? Possibly Graham Drinkall????

Birdman Cherrokee

Later that year the first national tow meet was held near Little Snoring, in Norfolk and everybody in the country who had designed a tow winch were invited to attend, The event was hosted by the Norfolk club. Word had leaked out that the Suffolk Club was planning their own tow meet. Eventually both the Norfolk and Suffolk clubs got together and agreed on pooling their resources. The Suffolk Club helped with the organisation although the majority of it was undertaken by the Norfolk Club. It would have been an absolute waste, have two meeting at the same time. The Norfolk Club did a great job, but sadly it was marred by a fatality during the event. The meeting also played a big part in the coming together of both clubs after a messy split when a few members broke away from the Norfolk club to form the Suffolk club. From then on both clubs seemed to get on with each other, and later even held flying competitions between the clubs.

1980

23rd March. Terry Aspinall soared Sizewell sand dunes for the very first time followed very closely by Alan (Snowy) Snowling

5th April. Terry Aspinall Soars Mundesley for 4 hours 41mins.

6th September. Terry Aspinall had an accidentally parachute deployment while flying at the British Hang Gliding Championships being held at Mere in Wiltshire, however he landed safely but broke his sternum. It was claimed to be the first parachute deployment from a hang glider in the UK, even though it was accidental.

1981

Glenn Read joined SCFHGC at a time when the club was very social. Affectionately known as 'The Suffolk Coastal Picnickers' due to flyable days at Corton / West Runton being very scarce. Many hours and weekends were spent sitting in the sun or playing the pitch + putt ball games. While regular monthly meetings held in a pub were well attended and great fun was had by all as flying was rare.

Also by this time several of the members were concentrating on building power units for their hang gliders, in order to take off in areas where the pilots lived. The idea was to gain as much height as was required to catch a thermal and to then switch off the engine. However, it did not work out quite like that. Pilots seemed to enjoy their flying with the engine left running. Hence plenty of cross country flying, but with out the aid of a thermal.

1982

13th February. An EGM was held to discuss obtaining a license to fly Felixstowe cliffs and also permission to fly Bawdsey.

March. Club meeting held at Ipswich Airport. Bob Wooltorton gave a short talk relating his recent experiences with a fixed line tow launch system at Broome airfield. The line is fixed to a new harness and bridle devised by Howard Edwards and Andy Brough. The other end is attached to the tow vehicle roof rack, from where a safety man also observes launch and flight. Stable launches were obtained with 350 – 400 ft on a 550ft line.

6th June. Brian Wooltorton died during a tow at Worminghall Airfield Oxfordshire, on a fixed line demonstration flight to the BHGA. The Glider tucked in from 80 feet onto a concrete runway.

August Bob Wooltorton obtained his instructors certificate and the club purchased a Wasp Falcon 3 as a training glider. It was used at Raydon, with a maximum flight time of around15 seconds.

1983

10th March. The first issue of the SCFHGC newsletter 'Release' put together by Bob Wooltorton.

March. Aerotowing discussed, but too fast for current hang gliders.

March. Bob Wooltorton qualified as an instructor.

27th April. The Suffolk Coastal Floaters Hang Gliding Club held an AGM

June. Sean Myles attended a towing seminar in Germany, and brought back a video.

5th June. Terry Aspinall flew a closed circuit from Thorpeness to Bury, to Norwich, and home back to Thorpeness on Typhoon S and Tri Pacer 330 twin, setting new National and possibly also European record.

September. Dave Ellis, Steve Field, Glenn Read, Tony Girling, and Trevor Scott were under taking training.

28th September. Terry Aspinall became the SCFHGC secretary.

9th October. Steve Hillyard won the Raydon cow pat trophy, Dave Abbott was second.

Autumn. The SCFHGC made another trip to South Wales involving Sean Myles

13th November. An epic day was had by the SCFHGC at Corton with 18 gliders rigged. Bob Wooltorton top landed in gorse bush, first soaring flights by Glenn Read, Dave Ellis and Bill.

3rd December. The SCFHGC held a Christmas Fancy dress party was held at 'The Haven' Hotel, Felixstowe Road, Ipswich. Bar, Buffet, Disco for £2.50

1984

18th February. Terry Aspinall while flying a dual Mainair Striker Trike, had a camera man kneeling behind him, filming one of David Cooks prototype Shadows. Terry flew in a straight line while David make several close fast passes, fly straight at him and only veering away at the very last moment. The footage was to be used on some of the Shadow promotion material.

29th February. Following observers proposed to cover a wide spread area of club, 1 Ed Potter Newmarket and Cambridge area.2 Graham Drinkall Colchester area. 3 Tony Patterson Colchester area. 4 Steve Hillyard Felixstowe area. 5 Dave Abbott Woodbridge area.

17th March Terry Aspinall while flying a Mainair dual Striker Trike, attempted a record flight, flying from the East coast to the West coast England. David Cook as an qualified observer, saw him off after signing his Barograph, from the Thorpeness cricket field. Conditions were not good with a 25mph N by NE wind. What he really needed was an East wind to help push him along, and save fuel. Somewhere near Cambridge he went through a thunder storm and his Barograph show a dramatic drop in altitude of over a thousand feet. Somehow he managed to keep control and weather the storm. Halfway across the country he knew he was in trouble, and was not going to make his target, eventually running out of fuel somewhere near Shogdon just over the border into Wales. For Terry this was a make or break attempt. A few years earlier he had discussed with David that he would be happy to hold a world record even if it were only for one day. He knew that the next weekend David was going to attempt a record breaking flight from Thorpeness the Lands End in his Shadow. Against which Terry had no chance of beating, the Shadow was way ahead of any other Microlight flying at that time. David's Shadow did break the record but it was flown by Pete Davies. As a foot note Terry's ground crew consisted of just one man, Trevor the owner of the Striker. Most of the roads in England run North to South and Trevor was crossing all of them. Every half an hour he would have to find a call box to phone Terry's wife Emily, to find out if he was down, that's hoping Terry could also find a call box, to let her know where he was. Terry landed in a farmers very small field and upon knocking on the farmers door was greet by a guy who claimed he'd seen Terry land, as he was sitting by a window undertaking a written exam for his pilots licence. Trevor arrived only thirty minutes later to pick him up, which was the best achievement of the day.

March. The SCFHGC Cow Pat Trophy was won by Dave Ellis, second place Tony Patterson.

28th March. The SCFHGC's monthly club meeting venue changed to the The Old Bell on corner of Vernon Street and Stoke Street. Still the last Wednesday of every month.

16th June. Terry Aspinall crashed a two seater Solar Wings Panther XL Trike while demonstrating with a customer on board. Both were uninjured accept Terry's pride. It being his only crash ever in a powered hang glider.

September. The SCFHGC did well at the British Hang Gliding Championships being held at Mere in Wiltshire. Bob Wolltorton 1st S/S L/D. Tim Dunn equal 2nd S/S. Tony Patterden equal 2nd S/S.

1985

January. The SCFHGC presented Terry Aspinall with an 'olde world' style testimonial as a going away present from the club, as he was moving to New Zealand. It reads, Testimonial to Terry Aspinall, President of the Suffolk Coastal Floaters Hang Gliding Club. This Testimonial records that Terry Aspinall was the founder of the SCFHGC, and was its first Secretary and news letter editor and princible driving force in the clubs foundation. He is a pilot of exceptional character, ability, dedication and enthusiasm in the sport of hang gliding. We regret that he is leaving these shores, his friends and flying companions, but we all wish him Bon Voyage. May success and good fortune follow him and his family in his new life in New Zealand.

It was signed by the following Pete Bowden, Bob Wolltorton, Dave Abbott, John Kerr, Steve Hillyard, Glen Read, Tony Paterson, Bill Weston, Steve Voller, Steve Welch, David Cook, John Marwin?, Graham Drinkall, Steve Hariss?, P H Price, John ?, Terry Hill and Tony Girling.