Stowmarket Secondary Modern School photo February 1955
Are you on this photo? or do you regcognise somebody you grew up with
Maybe you can contact me so they can be added to the list below
Unfortunately the identity of the photographer has been lost
Names so far have been supplied from
Graham Keeble, Bill Dixon, Neil Langridge, Steve Williams, Olwin Luke (Stannard), Maureen LLoyd (knights) and Terry Aspinall
CONSTABLE ........ ......... .....WOLSEY...................... PRIESTLY ......................TOWNSEND
| | | | | | | | | | |
| --- | --- | --- | --- | --- | --- | --- | --- | --- | --- |
| | | 50 Gillian Simpson | 94 Pauleen Leeks | 169 Mr Dix (Art) | 193 Andrew Hill | 245 Michael Cracknell | 275 John Baker | 299 Edwin Denny | 337 ??? Kerry |
| 2 Barbara Parker | | 54 Joy Stannard | 155 Lillian Rowe | 170 Mr Ackers (Librarian) | 194 Stephen Hall | 250 Bazil Tyte | | 300 Roy Copper | 338 Graham Crooks |
| 3 Gillian Wright | 29 Rita Grant | 56 Sally Quirk | 101 Susan Berham | 171 Mr Wilmot (Headmaster) | 195 Michael Pike | 251 Keith Wilson | 278 John Barron | 304 Bernard Bradbrook | 339 Ronald Gooch |
| 4 Ruby Read | | | 103 Margarte Firman | 179 Mr McGuniness | 196 Bruce Hiron | 252 Melvin Tricker | 279 Peter Stevenson | 308 Peter Whelham | 342 John Paddy |
| | | | 106 Rita Starling | 172 Mr Sam Steward (Woodwork) | | 254 Raymond Saunders | 285 Peter Russel | 309 Peter Hempstead | 347 Peter Hibbert |
| | 34 Janet Bridges | 67 Silvia Taylor | 110 Margaret Edwards | 173 Mr Underwood (Art) | 212 Michael (Kim) Davey | 258 Donald Kerridge | 286 John Norman | 317 Robin (Slash) Southgate | |
| 10 Marrion Berry ? | | | 114 Margaret Buxton | 175 Mr Taff Howell (Metalwork) | 205 Trevor Matthews ? | 265 Tony Lilistone | | 320 James Squires | |
| 11 Mytle Copping | | | 116 Janet Hammond | 176 Mr Townsend (PT) | | 260 Steven Farrow | 289 Brian Heinz | 325 Robert Smith | |
| 12 Doreen ? Prime | 37 Rhoda Bugg | 71 Olwin Stannard | 121 Sylvia Fairhead | 177 Mr Blowers (Tec Drawing) | 208 Lloyd Lambert | 261 Kenneth Bridges | 290 Raymond Bumstead | 327 David Williams | 372 David Burrows |
| 13 Myrtle Manning | 38 Catherine (Patsy) Quirk | | 131 Marie Worth | 178 Mr Walker (Science) | 210 Peter Zarkos | 262 Graham (Korky) Keeble | 291 Johnathon Nunn | 328 Nobby Clarke | |
| 14 Mary Brewster | | 78 Heather Lumsden | 142 Gillian Thorpe | 179 Mr Mcginley (French) | 211 Auther Finbow | 263 Brian Rush | 292 Richard Sparks | 329 Michael Peachment | 377 Christopher Runnucles |
| 15 Glynis Abbott | 42 Miss Watson (Cookery) | 83 Teresa O'Brian | 152 Sonia Deverex | 185 Christopher Pennington | 213 John Cooper | 264 Peter Hayward | 293 Peter Eastlea | 330 Brian Saunders | 379 ??? Leeks |
| 18 Terry Sutton | 43 Mrs Kerry (Music) | 89 Lynete Whiting | 153 Janice Robinson | 187 Dereck Hayward | 215 John Wright | 266 David Finbow | 294 David Taylor | 331 Russell Edwards | . |
| 20 Pauline Holland | 44 Mrs Piper (Dancing) | 91 Joyce Garrod | 158 Valerie Spurling | 188 Peter Haxall | 219 Ronald Churchyard | 269 David Cobbold | 295 David Burrows | 332 Mick (Hank) Lancaster | . |
| 21 Cynthia Crisell | 45 Miss Chaplin Religious Instruction | 92 Ann Cracknell | | | 225 Winston Girling | 270 William Ward | 296 George Riley | 334 Terrance Aspinall | . |
| 24 Bridget Hanlon | | 93 Ann Cobbold | | 192 Anthony (Sam) Burrows | 242 John Hill | 274 Bernard Bradbrook | 298 Peter Aldred | 335 Terence Ball | |
| | | | | | | . | | | . |
Stowmarket Secondary Modern School Reunion 1995

40 Year Anniversary
| | | |
| --- | --- | --- |
| 1 | 19 | 37 Kenny Lane |
| 2 Teresa O'Brian | 20 Graham Keeble | 38 |
| 3 Patsy Quirk | 21 Rhonda Bugg | 39 Rita Paddy |
| 4 Barry Bishop (PT) | 22 | 40 Dennis Goddard |
| 5 | 23 Peter Stevenson | 41 |
| 6 Victor Eastleigh | 24 | 42 Pauline Leeks |
| 7 Bernard Bradbrook | 25 | 43 |
| 8 Tony Lillestone | 26 | 44 |
| 9 Arthur Finbow | 27 | 45 |
| 10 | 28 Maureen Cook | 46 |
| 11 | 29 | 47 |
| 12 | 30 Mike (Kim ) Davey | 48 |
| 13 George Akers | 31 | 49 Kenny Lane |
| 14 Susan Berham | 32 | 50 |
| 15 Joyce Catchpole | 33 Michael Lumsden | 51 |
| 16 Mary Selsby | 34 | 52 |
| 17 | 35 | 53 |
| 18 | 36 Terry Mayes | 54 |

| | | |
| --- | --- | --- |
| | | |
| | | |
| | | |
| | | |
| | | |
| | | |
| | | |
| | | |
| | | |
| | | |
| | | |
| | | |
| | | |
| | | |
| | | |
| | | |
| | | |
| | | |
| | | |
1995 Reunion photo donated by Graham (Korky) Keeble & taken by ??????????????
The event was organised by Patsy Quirk and Teresa O'Brian
Back Row L.to R David Woodhall, Mike Hannah, Wendy Baker, David Cresswell, Barbara May, Maureen Pleasance, Brenda Currey, Vicky Mead, Anne Edwards, Heather Ling, Angela Winch, Dennis Rivers, Glenice Horrex, Trevor Harvey, Melvyn Ward, Hugh Emmerson, Christine Bird, Ray Sanders, Roger Lark, Tony Buck, David Landymore, Peter Clark, Lynn Clark, Gloria Honey, John Rushbrook, Margaret Ruffles.
Front Row L to R

Janet Burman, Daphne Brundell, Margaret Robinson, Beryl Sparles, Maureen Knights, Marylee Raistrick, Margaret Stannard, Rita Moyes, Pauline Horrex, Bridget Sheldrake, Carol Mead.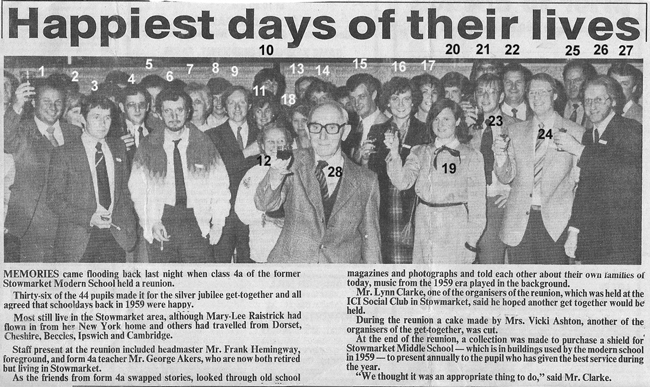 1 Ray Saunders 2 Brenda Curry 3 Mike Hannah 4 Peter Clarke 5 Margaret Ruffles 6 Roger Lark 7 Vicky Mead 8 Janet Burman 9 Tony Buck 10 Gloria Honey 11 Rita Moyes 12 ?? 13 ?? 14?? 15 Dennis Rivers 16 Carol Mead 17 Daphne Brundell 18 Beryl Sparkes 19 Margaret Robinson 20 Christine Bird 21 Heather Ling 22 David Cresswell 23 Lynn Clarke 24Hugh Emmerson 25 John Rushbrook 26 David Landymore 27 David Woodall
28 Frank Hemmingway (Headmaster)
Return to the top of the PAGE